It hit me this morning, while I was adding chocolate syrup to my strawberry n' yogurt smoothie, that I don't have much time left to train for the next Olympics.
I have fairly high standards when it comes to modern dance ("If I can do it, it's not dance") and jazz music ("If I can't snap along to it, it's not music") but "If I can do it, it shouldn't be an Olympic sport" just doesn't cut it. I CAN do many Olympic sports - I ski, skate and swim - I've never luged, but come ON - the only difference is that I don't do these things as well or as quickly as Olympians. Or even small children.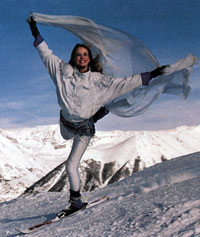 I've come to accept that I'm never going to make it to the Olympics in any of the traditional sports but I still feel there is hope. As we all witnessed with the ski ballet of yester year (see "Figure 1″, right), Olympic standards for sport can occasionally be lax. Katr and I feel the time is right to introduce a new component to the Olympic Games: The Creampuff Olympics.
Creampuff Olympic Rules
1. All competitors must be over 200 lbs. 198 lbs soaking wet - doesn't count. Drink a malted and come back tomorrow.
2. All sports take place in an aqueous environment no deeper than 4 feet. Treading water can can lead to charley horse. There is no equestrian in the Creampuff Olympics.
Creampuff Olympic Events
*Sprinting (extra points for slow-motion faces and humming "Chariots of Fire")

*Cross-country Ski (extra points for superior leg extension and make consistent, delightful "bloop bloop" noises)

*Rubber Ring Retrieval Relay (Team Event)

*Water Ballet

*Synchronized Water Ballet (Team Event)

*Water Guitar (Last year, the Russian team took the gold with their rousing rendition of "Splish Splash, I Was Taking a Bath and then Stalin Shot Me")

*Underwater Emissions

*Cannonball
There so much to DO in preparation for this exciting move. Sponsorships must be sought (I'm thinking Krispy Kreme), outfits need to be designed by the special Creampuff Division of ROOTS Canada. Well, first ROOTS Canada has to start a special Creampuff Division - I bought a ROOTS bathing suit recently, but the thing is such a piece of shit that I've worn it MAYBE 6 times and already the lettering on the front has peeled off, going from a proud "ROOTS Canada" and little Canadian flag to "R OTS". Fuckers and their cheap creampuff suits.
We'll be holding Creampuff Olympic tryouts in our building's rooftop pool in the next few weeks. Watch this space for more details - and get working on that cannonball! I'm gonna get out there just as soon as I finish this pie.
Comments: